Christmas in my family has always been super-duper special. The putting up of the tree is the beginning. Then there is the making of the rum balls, the creation of the christmas menu, the making of the big christmas morning breakfast, the hours of shopping, the stressing over what to get for dad, the wrapping of presents, the putting of the presents under the tree, the dragging of Mary out of the bed, the eating, the carolling and the ear bursting squealing.
It was my beloved moo-ma who passed on her christmas joy to of us. As little kids she used to write us long, detailed Santa letters in metallic pen and sometimes she would hang them from trees for us to find. We used to do all the fun stuff like leave carrots out for the reindeer and beer out for Santa. We'd wake up far too early on Christmas morning to find our Santa sacks filled to the brim. And that excitement has never really left me.
So this year, as my first Christmas in stinky old Sydney, I had to make it just as special. Joel is not really a huge Christmas person so I also wanted to show him what decking the halls is all about.
We went to Target to buy a tree, which these days cost around $150 which is craaazzzzeeeeeee. So we decided to buy some Christmas decorations, hunt down some sticks and decorate those instead.
Here is the result: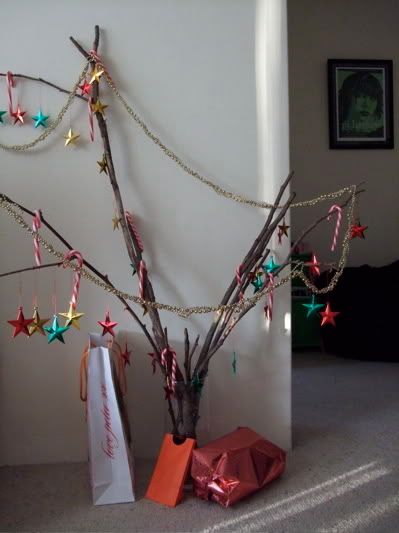 Check it out – real candy canes!!
Merry December 2nd everyone!