This was my beach holiday timetable:
0700 – wake up
0730 – watch teevee
0745 – walk to beach for morning swim
0900 – eat breakfast
0915 – eat chocolate
0930 – go back to beach
1100 – start a game of trivial pursuit
1300 – eat lunch
1400 – go back to beach
1600 – open first beer. drink
1608 – open second beer. drink
1730 – watch west wing
2300 – go to bed
Here are some snaps to illustrate our lazy holiday:
Joel and I looking like we just found out we're cousins and that I'm pregnant with a baby will gills.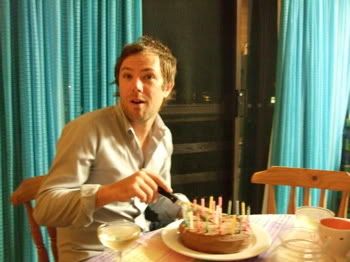 Here is Joel cutting his (delicious) birthday cake. Let me tell you, that day was hell for me. For the days prior all I heard was, "you better make my birthday really special" and then all day on the day I heard, "but its my biiiirrrthday". This is the last shot of Joel before he cut into the flaming stick of dynamite I embedded in the cake. I buried different parts of his body around the backyard and fed a single finger to a seagull, who I can always trust with my secret.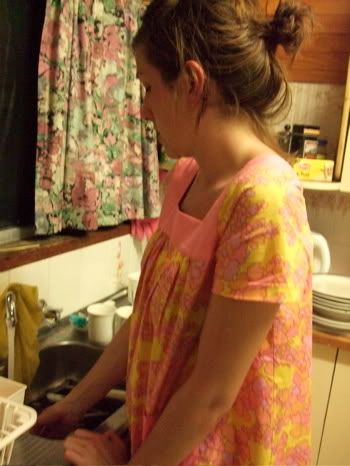 Here I am doing the washing up in a  demure outfit. Ain't I just the poster girl for Women's Liberation.
This is Joel upon our return to Sydney. I was pretty much inconsolable this day because our holiday was over and I hate life outside of beachy fun times.
Yet I still managed to look slammin'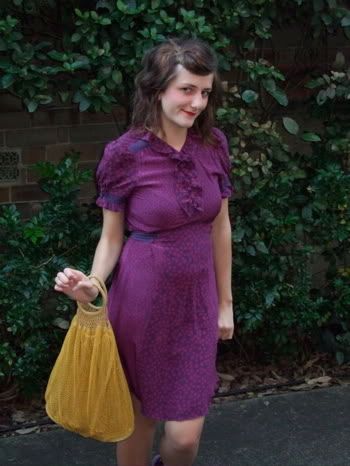 There aren't many photos of the actual beachy fun times because it rained most  of the time.  If there was photographic evidence of our time spent indoors it would be of me taking afternoon naps, Joel playing ping pong with his friends in the garage, us trying to keep the mud out of the house, Joel rescuing a puppy called Mikey on the beach, us hanging out at Erina Fair testing out Playstation 3, me eating a shitload of cake and us watching way way way too much West Wing. Yes!! 
I only wish I had a photo of the policeman who turned up at our small gathering after a call from a concerned neighbour, to find four boys quietly playing ping pong in the garage. That's what I call a Kodak moment.