One of the fun things about my job is wandering around suburbs I wouldn't usually visit. Today I went and did some hanging out in Kirribilli and my GOD, the people there live sweet lives.
Leafy streets and heritage-looking terraces done up beautifully, a fecking school with a harbour view. Kirribilli residents look as though they never fart, poop or pull on a cardigan they've had since year eight covered in moth holes. It took all my will power not to put some dog poop in a bag, set it alight and put it on someone's door step. That's right, try and scrape that turd from your Sofia Coppola for Louis Vuitton heel.
Yesterday I was in Roseville and had similar feelings of pure wealth-envy. Then I saw this piece of fun: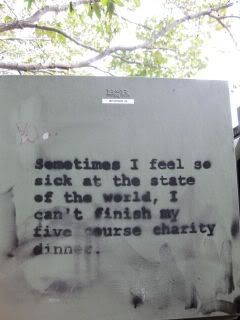 The world is awesome.