Now that I'm a member of the beige, frowning army of lemmings known as the employed, I pine for my university days. I think I made the most of them – I drank enough beer to cultivate my own little wobbly gut, I met my beloved man friend, I learnt things, I slept more than I care to say. I also once let off fireworks in a paddock behind my dormitory before painting my face army-style and carrying a giant log around campus just because I could. I remember the sheer relief I felt every Sunday afternoon upon finishing work behind a checkout. Yep, my working "week" was over and there was nothing ahead of me except five days of blue skies, half-burnt Sargent's Pies and trivia Tuesdays. Dudes, that was the shiz.
A couple of weeks ago, a few friends and I decided to return to the scene of several crimes, but this time do it in style. Without a student budget the possibilities were endless. Bottles of wine! Sirloin steaks! Clean underpants! Warm jackets! Cocktails! Antiques shopping! Buying narcotics from teenage mums!
So here's a little trip down memory lane:
This is the fringe and eyes of my friend Tegan as she drove out of our driveway and onto the freeway of…freedom. It should be noted that not only is Tegan incredibly stylish and smart but she's a kick-ass driver. Which is a relief because even I get sick of driving with me and my white knuckles.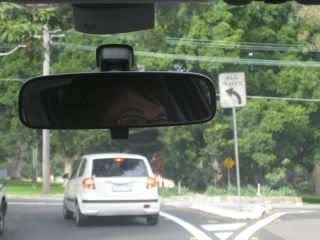 One of the first things we wanted to see when we arrived was the street I remembered as being action-packed. Everything that happened happened right here. Clearly I was so focussed on getting to the amazing French patisserie down the end of the road that I didn't realise I was living in a city abandoned in the year 80BC.
I found this graffiti a little ironic. Because in my experience of ghetto life, those who draw devils on public property are unlikely to be in school themselves. Alanis Morrisette was going to include that insight in her hit song but it didn't quite fit.
After exploring the town we had our long-awaited Sirloin steaks at a classy restaurant we could only dream about as students. As it turned out the waiter was distracted, my steak was over-cooked and there was nothing on the damned menu served with gold leaf.
Then, much to the joy of those in our company, the J-man and I wanted to revisit the seedy corner of a beer garden where we first kissed. It was exactly like it is in this picture, with him sitting daintily on my lap and me stealing his innocence right out from under him. It later emerged he made out with two other girls on the same fateful eve. Ah well, gotta take 'em for a test drive.
Later we hit the dancefloor at a pub where the DJ clearly had no sense of fun. You do not, I repeat do not, put weird house beats clumsily over a perfectly dance-worthy Pink – sorry P!nk – song. This photo makes me smile because I spent two whole years mesmerised by my friend Bron's ability to shake her bootay. For real, this girl can dance.
The next day, some of us having taken a puke for old time's sake, we went up to uni to remember on-campus life with all its perverted dormies, gastro bugs, conjunctivitis and nudie runs. In true student style, tea bags were stuck on the wall next to us, obviously having been thrown in a moment of reckless spontaneity. Two of us had to wee and it was nice going in to the heated bathrooms with the familiar smear of post-adolescent boy poop stuck to the bowl. We did get caught by the residential advisor who, after some convincing, let us stay so we could relieve ourselves.
And, our final stop, the first student house I lived in. There are many tales to tell from the year I spent living here with my sister, her boyfriend my friend Liam. I'll just give you snippets. Junkie fights across the road. Beer on the deck. Vines growing up the interior walls. Epic CD listening nights. Broken fridge. Halloween movie marathons. Mice plague. Treats from the corner store. Oven with dodgy thermostat. Over-the-top Jesus decorations.  Hallway for a bedroom. Village Fair champagne breakfast.
Take me home.