This year I took on a tradition started by the J-man's grandmother and wrote in my day-to-day diary everything I did every day. I'm not sure if Grand J does this, but I made sure I included everything – fights, amusing moments, cooking disasters, whether I was bored, in a bad mood and, often, what I had for dinner. I know, I know you can barely wait to read what happened next …
I started doing it when, at the end of 2008, I couldn't remember how I'd spent the year.  I found it quite depressing that a whole year had passed and I could only remember that I had Mee Goreng noodles half an hour ago. And I could only remember that because the explosive after effects of all those exotic spices were starting to hit me.
So as a kind of 2009 Year in Review, I'd like to share a few highlights with you:
This was the day before my 23rd birthday and Mum and Dad had come to Sydney to hang out. We went to Harbord Beach, or Freshwater if you so desire. And man, it was the greatest beach day – clear water, blue skies, warm sun and silky, white sand. Afterwards we went to The Oaks pub for lunch and later for dinner with my sisters at Not Bread Alone in Crows Nest. Yes, it was a rather shiny-ass kind of a day. And no, you weren't invited unless you were wearing boat shoes and a Ralph Lauren jumper knotted casually around your shoulders like a dead fox.
The next day a teenager was bitten by a great white shark at a beach close to Harbord. Great white sharks are my favourite animal and I considered it mother nature's thoughtful birthday gift to me.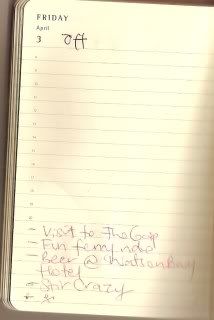 I really like to think of new and different things to do in Sydney. So the J-man and I took a ferry across the harbour to The Gap. It's one of the most romantic place in the country, much like Belanglo State Forest or Snowtown or Epping. But, I'm as serious as a Supreme Court judge when I say that this was an amazing day. We wandered around together for a while and then got slightly sloshed in the sunshine at Watsons Bay Hotel. Love is always better with a side of tipsy.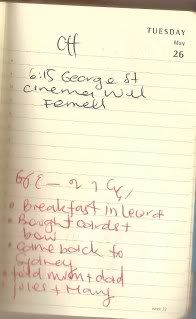 This was the morning after the J-man proposed to me while I was half-naked at a Bed and Breakfast in Leura. After waking up as an engaged couple we had an amazing breakfast, explored the cute village and bought some momentos. I don't think that I've ever felt as at peace as I did on that day. What I particularly like about this diary entry is that I was fully intending to go and attempt to grope Will Ferrell on the Land of the Lost red carpet. It's very possible that could have been the best day of my life. Thanks a lot J-man, you selfish bastard.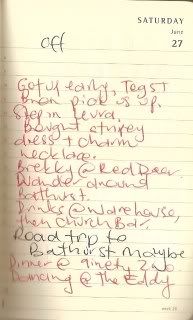 This was the first day of a road trip I took to Bathurst with Tegan, Bron, Liam and the J-man. It was so great to get together and head back to our old stomping ground. We made sure that we ate at all the places we could never afford as students. As you can see, it's the food and booze that sticks in my mind, seeing as though everything I noted had to do with digestion. Typical, really.
This is the entry for our five year anniversary. On the 25th, we went to Linda's in Newtown for dinner. It's a great place to eat, but I particularly enjoy going there because they give you little cups of hot soup before the meal and it blows the J-man's mind. It's as if they've served him a live leopard and his challenge is to slay it before serving it up with a fruity white wine sauce.  The look on his face is priceless. On the 26th, which is the anniversary of when Joel and I made out at 80s Prom Night at Uni Bar, Joel took it upon himself to do some illustrations. I think they're cute. I wonder what Freud would think.
Amusing/banal moments of 2009, as revealed in my diary entries:
"Saw Alexander Downer on Market St with a stain on his shirt, bahaha" – March 17.
"Bought jars' – March 20.
"Saw the dude from Blink 182" – March 24.
"Awesome satay chicken" – April 5.
"Crazy lady told me swine flu spread by rain" – April 29.
"Discovered apricot toast – OMG!" – June 16
I had swine flu from June 23-June 26.
I had "baad soup" on July 20.
"Lunch with Liam @ fancy sushi train – he pulled handle off the door" – July 29.
"Fell over at HFM [Harris Farm Markets]" – August 11.
"Failed attempt at Florentine cookies" [I forgot the all important corn flakes and they turned into sugary puddles of glace fruit] – October 11.
"Drinks with Joel at the Greenwood. Watched spectacular thunderstorm near skanky girls" – November 12.
"Flourless, sugarless cake mistake!!" – November 17.
Movies I saw in 2009:
Frost/Nixon, Vicky Christina Barcelona, Gran Torino, The Wrestler, Brokeback Mountain, 2 Days in Paris, The Queen, The Reader, Rachel Getting Married, Revolutionary Road, Baby Mama, Burn After Reading, Taken, Friends with Money, American Teen, The September Issue, The Siege, Annie Hall, Adventureland, Broken Flowers, Valentino: The Last Emperor, He's Just Not That Into You, (500) Days of Summer, Dead Snow, Moon, Away We Go, Zombieland, Where The Wild Things Are.
Live Shows:
Sydney Festival First Night, Eagles of Death Metal, Animal Collective, Why?
Let's hope I spend less time notating my favourite foods in 2010 and more time going to shows and hanging out with people who aren't on a screen.