I pretty much write the same blog post each year around Christmas time. I'm thinking about getting 'I (heart) Christmas' tattooed on my forehead.
But just now I was out on my deck, eating fish in a box and a bowl of salad, looking up at the gum trees and trying to pinpoint exactly what it is I like about the festive season. Sure, there's the presents and the candy canes and the pancakes and the bacon and the chocolate and the afternoon nap and the seafood and the dinner and the wine and the presents and the tree and the stockings and the cute kids and the bon bons and the spicy nuts and the carols and the classic movies and the excitement of Christmas Eve and the awesome teevee specials and the holidays and the twinkly lights and the cicadas and the jokes and the conversations and the presents.
All of that is amazing.
But I think what I really love about Christmas is giving. I know, gag. Send me to the Oprah show because sisters, I believe in the gift of giving. I just really, really get a kick out of getting people things they really want, or really like or that will remind them of something they used to have or that's just plain old kick ass. Even if the receiver opens up my gift and gives a weak smile before thanking me – like the year I gave my Dad a framed, signed picture of myself – it's still satisfying to know I've spent a lot of time thinking about someone else.
For real, that's what I love about it. That for a whole bunch of days and weeks before Christmas, I'm thinking about other people. I'm finally distracted from all my stupid thoughts about myself like, "Oh my God, why is that woman staring at me. I applied my dark eye shadow as blush didn't I?", or "I can't believe I just bid farewell to a bunch of female colleagues by saying 'bye guys!', because they're definitely not guys", or "Man, I love this song. I wonder what my biceps would look like if I was a drummer", or "Hmm, that was a weird feeling in my stomach. I wonder if I have a tape worm. Hey, I heard you could lure those out with milk. Just like Santa Claus!" God, it gets boring hanging out with myself.
Anyway here's some things I've been doing in this beautiful month of December:
Ah, the infamous stick tree! Joel and I decided we're going to keep up the tradition of decorating sticks for the rest of our lives. We figured stick hunting would be seriously cool for any future pugs/kids we have. And here's a tip: the best sticks are always found near the Hare Krishna building.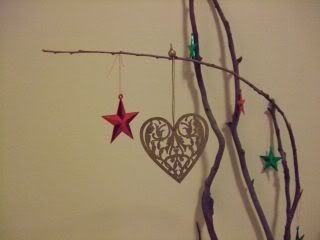 Here's a nice addition to our tree, thanks to Jillberry – the one who passed on the Christmas spirit to me. She who once saw an NRMA truck during a drive to look at houses decked out with lights and squealed: "Ooooh, twinkly lights".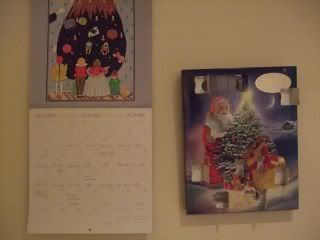 Here's our calendar and our advent calendar. We've had a few misADVENTures (clever!) this year. Including opening 13 instead of 3. It almost ruined Christmas. Almost.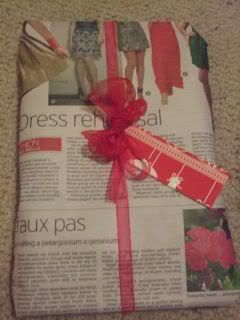 Here's my wrapping this year. I'm using newspaper, pretty ribbon and tags made from old Christmas cards. I made sure I used last weekend's Spectrum rather than the news pages, so the receiver will be reading delightful fashion tips rather than about a circumcision that went terribly wrong in New Zealand.
Gah! I'm so excited. What I also like about the festive season is the whole idea of the new year unfolding in front of you. I'm into broad new years resolutions and for 2010 mine are: try harder and know more.