It's such a girly thing to say, but I think my wedding day was the best day of my life. It was better than the day I finished high school, the day I got my first real job and the time I won a bunch of cinnamon donuts in a reading competition at my local library as a kid.
There's no way I will ever be able to write about it in the sunny, perfect way it plays out in my head, or how it was captured in photos, so I'm just gonna give it to you blow-by-blow, peeps.
I woke up on March 13, 2010, after a night on an uncomfortable bunk bed sleeping above my sporadic snoring sister, Julia, in a beach house at Copacabana. I was very tired after only a few hours sleep and had a gut full of tingly nerves. To try and get to sleep the night before I had tried to meditate by pretending I was on a gently rocking boat, so I felt a little disorientated in the morning and kept expecting to pull seahorses and pirate's gold out of my hair. I had a little cuddle with Vincent, painted my nails while watching Video Hits, blowdried my hair while my family had brunch at a hotel, sat around jiggling my legs and generally feeling like I was going to barf chunks.
In the afternoon, I decided to start getting ready. I did my own make-up and hair and later, got into my dreamy Alannah Hill dress. Ever since Joel gave me an extravagant Alannah Hill (yes, there's a theme, I <3 AH!) hair clip in our early-ish days of dating, I knew I would wear it to our wedding. He gave it to me over cheeky afternoon beers in a park in Bathurst and looked mildly alarmed when I read out the description on the price tag "'Marry Me, Stupid' hair clip". Well, OK.
Photo by Mary Gardiner
Guests arrived at our wedding at 3.30pm, allowing half an hour for a mariachi band to play while they drank champagne and chin wagged.
Photo by Chris Gardiner
J-man and I had decided we wanted to walk 'up the aisle' together and he and his sister would pick me up, school formal style, before the wedding. At 3.33, Joel hadn't arrived and I had my first and only bridezilla moment. "Of all days to be late!" I kept yelling at Julia, who was all: "Dude … shut your idiot cake hole". When he did show up four minutes late, relaxed and wearing blue faux Wayfarers, we sat together in the lounge room of the beach house and just kind of looked at each other, chuckling like a couple of loonies. At about 3.45, we got in the back seat of Joel's mum's white Camry and Nat drove us to the surf club, where we waited outside in a bus shelter.
Photo by Natalie Connolly
I was desperate to get in there and tie the hell out of this knot. Joel had to hold me back several times while we stood on the stairs ready to make our entrance, listening as our chosen song (Wedding Bell by Beach House) began to play. We took each other's hands and walked in to a room covered in paper hearts, flowers and filled with everyone we love. I know it sounds cheesy as hell, but walking through that door was like flying. It was a whole new world and I could not wipe the smile off my face.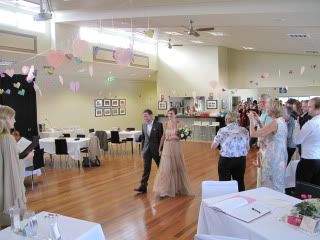 Photo by Chris Gardiner
The ceremony itself is a bit of a blur. I know I stumbled on some words, put Joel's ring on the wrong finger and spilt sand everywhere during the sand ceremony. But I tried as hard as I could to take it all in, to breathe in Joel's smile and his love and to focus on the fact that today was the beginning of forever. I know, right, there is corn in my vomit too.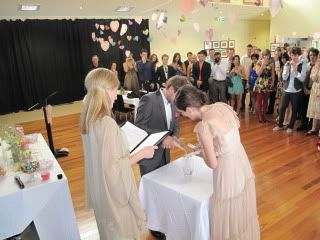 Photo by Chris Gardiner
Afterwards, we sat down to sign the marriage certificate and my wonderful aunt Jo showered us in red rose petals.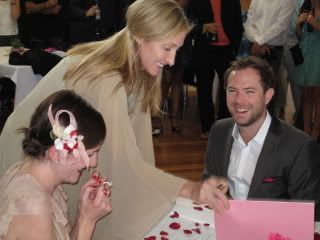 Photo by Chris Gardiner
And then we were married. I made my way around the room in a complete daze, talking to some family and friends, before going to have photos taken on the beach. Now, I was particularly afraid of having photographs taken because I always look like a complete doofus. I can't smile with my teeth on cue and usually end up looking like I've just seen a mass puppy grave. But, getting married to your one true love really does something to your emotions – weird, I know. I felt elated, a little bit high, even, and showed the whole world how wonderful my orthodontic work is.
Photo by Emotiva
'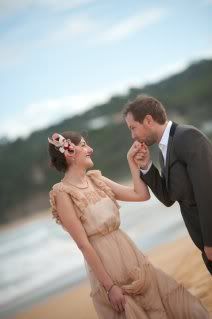 Photo by Emotiva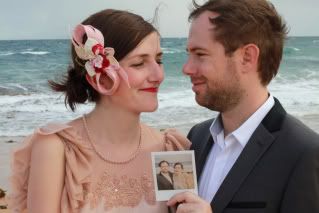 Photo by Julia Gardiner
And then we spent the rest of the night dancing, laughing and catching up with old friends and family. And we ate our Krispy Kreme tower.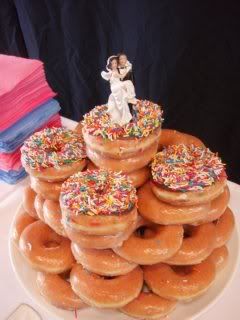 Photo by Bronwyn Loudon
We made a deal to take a little time out together every now and again just to take it all in. It was the best day ever.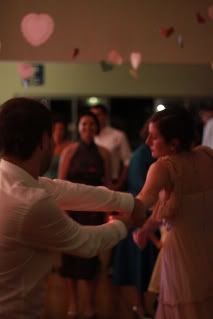 Both photos by Julia Gardiner